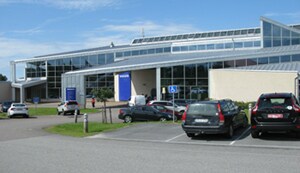 Volvo Factory Delivery Center - Goteborg, Sweden
Online Information
; Click
HERE
Complimentary airfare for two, round trip from Harrisburg to Goteborg, Sweden and VIP treatment on SAS Airlines, free hotel room, lunch, tours of the Volvo factory or Experience Center.  Two weeks Insurance, Registration, and gas included to start your travels throughout Europe, Free shipment of your new Volvo back to Lancaster PA. - all included in the OSD discounted purchase price.  Extended insurance available for longer stays in Europe.

Plan your European vacation now and take delivery of a new custom built Volvo  with the new Drive-E engine option:  T5 4 Cylinder Turbo or T6 Twin Charged with 8 speed automatic transmission for the optimum performance and economy.  Visit Stadel Volvo now for details and planning.


Talk to one of the OverSeas Sales Advisors at Stadel Volvo to custom order your new Volvo.

A unique way to buy your new custom-built* Volvo and an experience of a lifetime - enjoy Europe on Volvo.

Overseas Delivery Program Benefits

Generous savings on the US MSRP (on most models)
Two Complimentary round-trip airfares
One complimentary first class hotel night in Goteborg
Factory Tour or Experience Center Visit
    Admission to Volvo Heritage Museum
    Lunch featuring famous Swedish Meatballs
No Cost Home Shipment from Goteborg
    Optional drop off points throughout Europe - add'l charge
Complimentary VIP lounge pass at departing International airport
 Airport transfer from Goteborg airport to Hotel via Volvo escort
* Some European exterior colors and interiors are available in addition to the standard US colors plus many options are available ala carte rather than packaged together.  You can literally, build your own unique Volvo - the only one like it in the States 

Please fill out the form to the right to start the planning process with one of Stadel's Overseas  advisers

 

Customer Lounge

 

Unveiling
 
Customer Presentation

 
Goteborg City Canal

 

Ferry port to Marstrands